Hypothyroidism, often called underactive thyroid or low thyroid and sometimes hypothyreosis, is a common disorder of the endocrine system in which the thyroid gland does not produce enough thyroid hormone. It can cause a number of symptoms, such as poor ability to tolerate cold, a feeling of tiredness, and weight gain. In children, hypothyroidism leads to delays in growth and intellectual development, which is called cretinism in severe cases.
The signs and symptoms of hypothyroidism vary, depending on the severity of the hormone deficiency. But in general, any problems you have tend to develop slowly, often over a number of years.At first, you may barely notice the symptoms of hypothyroidism, such as fatigue and weight gain, or you may simply attribute them to getting older. But as your metabolism continues to slow, you may develop more-obvious signs and symptoms. There can be many reasons why the cells in the thyroid gland can't make enough thyroid hormone.
Hypothyroidism signs and symptom may include:
Fatigue
Increased sensitivity to cold
Constipation
Dry skin
Weight gain
Puffy face
Hoarseness
Muscle weakness
Elevated blood cholesterol level
Muscle aches, tenderness and stiffness
Pain, stiffness or swelling in your joints
Heavier than normal or irregular menstrual periods
Thinning hair
Slowed heart rate
Impaired memory
When hypothyroidism isn't treated, signs and symptoms can gradually become more severe. Constant stimulation of your thyroid gland to release more hormones may lead to an enlarged thyroid (goiter). In addition, you may become more forgetful, your thought processes may slow, or you may feel depressed.
Advanced hypothyroidism, known as myxedema, is rare, but when it occurs it can be life-threatening. Signs and symptoms include low blood pressure, decreased breathing, decreased body temperature, unresponsiveness and even coma. In extreme cases, myxedema can be fatal.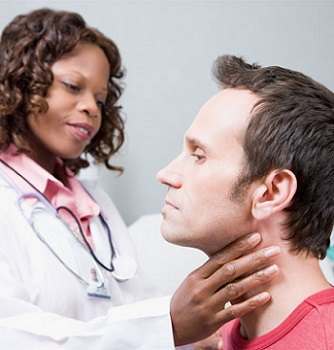 Your doctor first conducts a physical exam and reviews of your medical history. This can reveal any procedures like thyroid surgery or radiation treatments connected to hypothyroidism. Family history might reveal a close relative with autoimmune disease. Medication history might be positive for drugs, such as lithium and amiodarone that can cause the condition. Because hypothyroidism is most often found in women over age 50, some doctors advocate thyroid function screening for this group. Doctors also may suggest screening women of childbearing age. TSH (thyroid-stimulating hormone) test. This is the most important and sensitive test for hypothyroidism. It measures how much of the thyroid hormone thyroxine (T4) the thyroid gland is being asked to make.
An abnormally high TSH means hypothyroidism: the thyroid gland is being asked to make more T4 because there isn't enough T4 in the blood.
Hypothyroidism can't be cured. But in almost every patient, hypothyroidism can be completely controlled. It is treated by replacing the amount of hormone that your own thyroid can no longer make, to bring your T4 and TSH back to normal levels. So even if your thyroid gland can't work right, T4 replacement can restore your body's thyroid hormone levels and your body's function. Synthetic thyroxine pills contain hormone exactly like the T4 that the thyroid gland itself makes. All hypothyroid patients except those with severe myxedema (life-threatening hypothyroidism) can be treated as outpatients, not having to be admitted to the hospital.
Do you want to find an effective Thyroid treatment? Check out our top rated Thyroid products